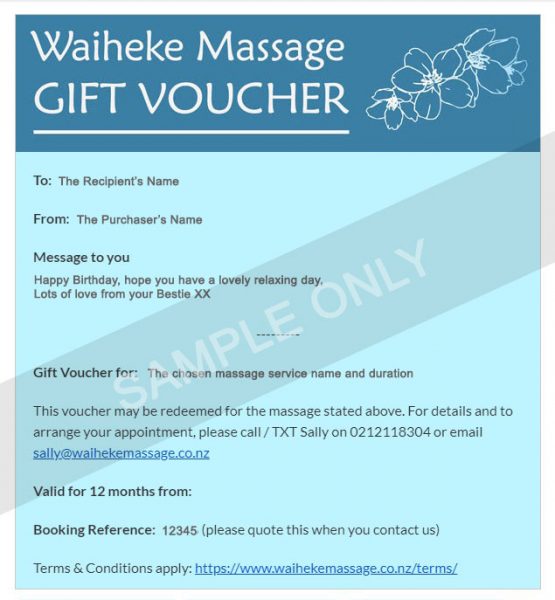 Would you like to purchase a massage gift voucher for a loved one, friend, colleague or relative?
A massage gift voucher is a wonderful way to show you care, and the recipient will be delighted !
Simply pay for the massage service that you've chosen to gift and provide the details of the recipient.
You can include a short personal note too (10 – 15 words max please).
Gift Vouchers are available for purchase by credit card and once you've completed the payment, the massage gift voucher is sent immediately by email to both you and the recipient.  If you prefer bank transfer, or a posted gift voucher, just let us know via our contact form.
Vouchers can be redeemed for a massage on Waiheke within 12 months of purchase and are non-refundable.
The recipient simply has to call or email us to make an appointment in order to redeem the voucher and the massage can take place either at the Waiheke massage studio, or at the recipient's Waiheke accommodation (depending on the service you choose!)
Please get in touch with us via our booking form if you have any question, otherwise you can purchase a gift voucher from here.
Happy Holidays 🙂