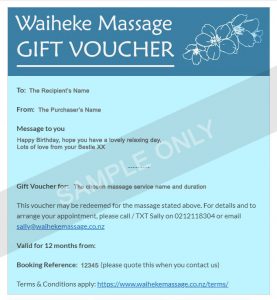 A massage gift voucher is a wonderful way to show you care, thank someone or simply be nice!
The recipient will be delighted when they receive the gift voucher, which can be redeemed within 12 months.
Buy a Massage Gift Voucher
It's easy to purchase a Gift Voucher for a massage on Waiheke. Fill out the form below to:
Select the location and type of massage;
Provide the recipient's information along with your information;
Check the terms and make the credit card payment to confirm.
Once the payment is complete, the massage gift voucher is immediately sent by email to the recipient and a copy is also sent to you 🙂
Notes:
Gift Vouchers can be redeemed on Waiheke within 12 months and are non-refundable / non-transferable.
To redeem, the recipient must contact us to make an appointment for a mutually convenient date/time.
Mobile massage locations that we consider "remote" e.g. beyond Onetangi, towards the Eastern End or those that are difficult to get to, will incur an additional fee.  Please contact us if this is the case for you, or you can select "studio massage (they come to us)" if in any doubt.
Gift Vouchers can also be posted – please contact us first if you prefer this option (additional fee may apply)
Full Terms & Conditions
---
If you experience any difficulties with our form, please send us a text!